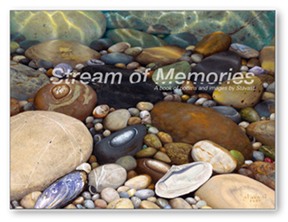 "Stream of Memories"
SKU:
$125.00
$45.00
$45.00
Unavailable
For the first time, Stavast's work has been collected in a bound volume. The reader is able to see the evolution of the painter's technique and variations in the colors of his palette, while the thoughts expressed in the individual paintings are echoed by poems written by the artist and presented alongside.
The award-winning first edition of "Stream of Memories" is limited to 1,000 copies.
Specially priced at $45.
Each hard cover book is signed and numbered by Stavast.